Save Your Spot at Synergy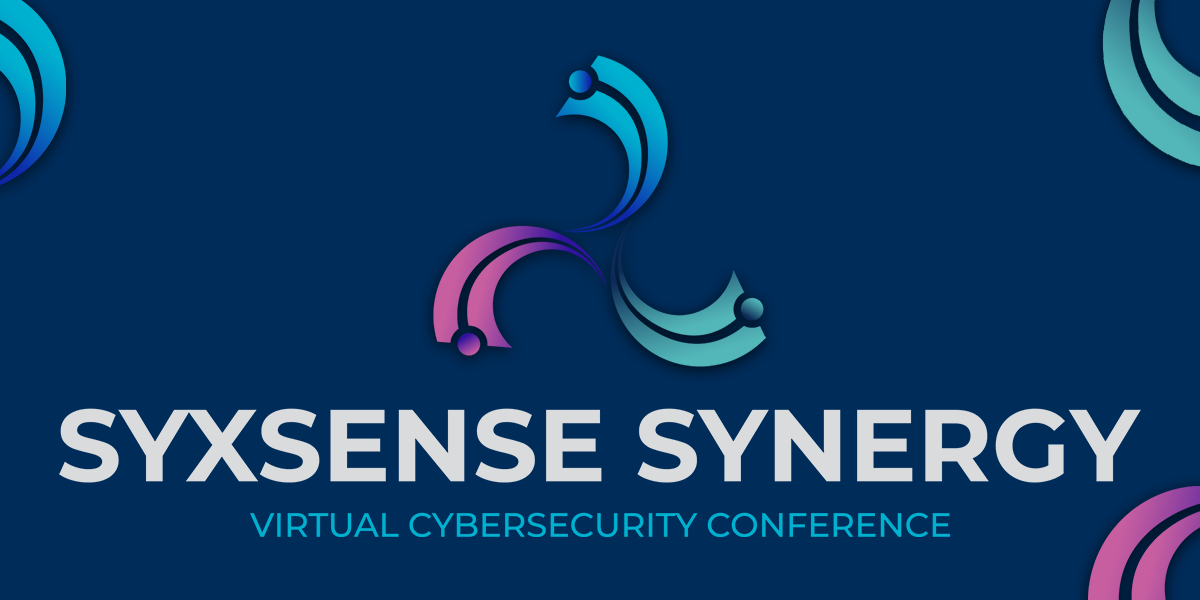 The future of cybersecurity comes on
June 8, 2023
and we want you to be there!
A full day of collective wisdom from the top minds at Syxsense and industry expert guest speakers who will tell you how to approach the future of cybersecurity with confidence.
How is cybersecurity going to change and thrive in your future?
Syxsense Synergy Session Schedule
Plan out your day at Synergy here!
8:30 am CST | Keynote
Speaker: Peter Singer, Strategist and Senior Fellow at New America
9:15 am CST | Simplifying IT Complexity to Improve Security and Reduce Risk
Between increasingly hybrid workplaces, innovative emerging technologies, and growing needs for technology to better support business operations, most enterprises have seen their IT infrastructure dramatically expand – oftentimes without even knowing it. Some studies have noted that shadow IT grew by 59% during the pandemic, while Gartner predicted that 30% to 40% of all IT spending in an enterprise goes to shadow IT. All this drives IT complexity, making it difficult for IT and security operations teams to have the visibility they need to manage and protect the enterprise.

In this fireside chat, Syxsense CEO, Ashley Leonard, will share his thoughts on the thorny subject of complex environments, why this is a challenge for so many enterprises, and what approaches can be taken to help reduce risk, improve security, and drive productivity.
Speaker: Ashley Leonard, Syxsense Founder & CEO
Interviewer: Mary Yang, Syxsense Chief Marketing Officer
10:00 am CST | Syxsense Product Roadmap
Syxsense Chief Product Officer Diane Rogers will provide an overview of the Syxsense product roadmap, including a sneak peek of the new technologies under development.
Speaker: Diane Rogers, Syxsense Chief Product Officer
10:30 am CST | Leverage Automation for Management and Security
IT and security teams are constantly being asked to do more with less. The only way to accomplish that is with automation and orchestration. Find out how teams all around the world are using robust automations to get their jobs done faster and more easily.
Speaker: Jon
Cassell,

Syxsense Solutions Architect
11:00 am CST | The AI Security Reality: What's Possible Now and What's a Dream
Talk of AI and how it's changing the world is unavoidable these days. From the massive adoption of ChatGPT to self-driving cars on major U.S. city streets, AI as a part of our daily lives is starting to become more real than ever. In this panel, hear from a panel of technology experts on their perspectives on the intersection of AI and cybersecurity. What's real? What's happening now that you should be taking note of? And what's just a pipe dream?
Panel:
Diane Rogers, Syxsense Chief Product Officer
Mark Reed, Syxsense Chief Technology Officer
Howard Holton, Gigaom Chief Technology Officer
Interviewer: Mary Yang, Syxsense Chief Marketing Officer
12:00 pm CST | Manage and Secure Environments from Anywhere: MSP/MSSP Challenges & Solutions
In our conversations with MSPs and MSSPs, every single one has noted that their key challenges revolve around talent acquisition, cloud-based technology adoption, and needing solutions that can provide robust automations to better serve their customers. At Syxsense, we see these as related challenges. In this session, hear from Syxsense Director, MSPs/MSSPs, Gene Kim, on innovative ways to meet these challenges head-on.
Speaker: Gene Kim, Syxsense Director, MSP/MSSP
12:00 pm CST | Channel Partner Trends & Insights
Channel partners are critical extensions of a growth-focused business. Because of this, the industry is constantly growing and changing. In this session, Syxsense VP of Channels, Jose Rangel, will share his perspectives on trends he's seeing across the channel partners he's engaging with and any shifts in the market for the rest of 2023.
Speaker: Jose Rangel, Vice President, Channel and Alliances
12:00 pm CST | Syxsense Customer Lunch
1:00 pm CST | Patch Management Strategies & Best Practices
Patching remains a difficult task for many organizations, as evidenced by the fact that many enterprises are being hacked through known vulnerabilities – some of which have were publicly disclosed years ago. How can you stay on top of this critical task? In this session, Jon Cassell, Senior Solutions Architect, and Syxsense Chief Customer Success Officer, Rob Brown, who has deployed more than 250,000,000 patches, will provide insights into best practices and comprehensive strategies for patch management.
Speakers:
Rob Brown, Syxsense Chief Customer Success Officer
Jon Cassell, Syxsense Solutions Architect
2:00 pm CST | Strengthening Security Posture through the Convergence of Endpoint Management and Security
The Expert analysts at the Enterprise Strategy Group join Syxsense CEO Ashley Leonard to discuss strengthening your security posture through the convergence of endpoint management and security.
Speakers:
Ashley Leonard, Syxsense Founder & CEO
Dave Gruber, Enterprise Strategy Group Principal Analyst
Gabe Knuth, Enterprise Strategy Group Senior Analyst
3:00 pm CST | Security and Endpoint Challenges and Approaches
"Zero trust" and "attack surface management" are all the rage in cybersecurity these days. But is that what your peers are really dealing with? In this session, hear from representatives from a range of industries – financial services, hospitality, and government – about their security and endpoint management challenges and what they're doing to tackle those issues.
Speakers:
Angel Taylor, Georgia Office of the State Treasurer IT Operations Manager
Mahmood Ulhaq, MyVest Chief Information Security Officer
Interviewer: Mary Yang, Syxsense Chief Marketing Officer
4:00 pm CST | Closing Remarks
Speaker: Ashley Leonard, Syxsense Founder & CEO